Dealership for:
Sherwood
Oceanic
Poseidon
Whites Dry Suits
Sea Life Cameras
Princeton Tec

Ocean Reef
Trident
Genisis
Akona
Bodyglove
JBL Spear Guns

Reefmaster
Lights and Motion
FANTASEA Line
plus dozens of accessory companies
2020 PRODUCTS COMING SOON!


Nautilas GPS Diver locator


GoBe Rechargeable lights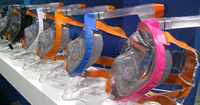 OCEAN REEF
Full face snorkeling from the guys making full face masks since 30yrs..
Now with a broad range of accessories - like no other.
In stock in all sizes including XS.


RINSE KIT
This is a pressurized water system that you can take with you, and wash your equipment after the dive. Itís also great for washing the Family Pet!
SEA LIFE Micro HD+



The first permanently sealed underwater camera
Capture the tranquil beauty of the undersea world with the first permanently sealed, flood-proof underwater camera. The Micro HD+ has no doors or openings that could possibly leak. With 32GB of onboard memory and a high capacity internal battery, there's no need for memory cards, batteries, O-rings, or maintenance.


The Next Great Thing - OCEANIC VTX computer
Features include: air-integration, air time remaining, OLED color screen, digital compass, Bluetooth ready, 4 nitrox mixes plus much more!.

Neptune Space G.divers
The NEW LINE of FULL FACE MASK
for the Sport Diver from OCEAN REEF
Colors available (emerald, cobalt, white and pink)
2 year warranty • Very affordable to recreational divers
WHITES DRY SUIT
with Seal Lock Technology
DIVE WARM tru the WINTER!!
DRY CASE "DRY BACK PACK" are NOW in stock
"DRY CASE" for your Phones, Mp3's and iPads
We have been an Authorized Oceanic Pro Dealer since 1981